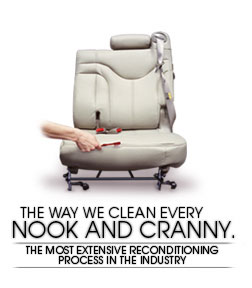 Pelham Reconditioning Department (205) 982-8327
Detailing your vehicle keeps that showroom shine! The Driver's Way Reconditioning (Detail) Department offers a complete menu of body shop and detail services, from repairing cosmetic paintwork and interiors to full upholstery and leather dying.
Our reconditioning experts are the best in the business -- they are responsible for delivering the flawless vehicles for which Driver's Way is famous. These professionals recondition thousands of our Certified vehicles each year -- why not let them care for your vehicle and keep it looking as great as the day you bought it?
Driver's Way is passionate about delivering vehicles you'll love to drive. Please call and speak with one of our knowledgeable advisors for current pricing on your vehicle model.
OUR SERVICES
Bumper painting
Carpet and seat removal (for cleaning)
Carpet color renew and dye
Carpet stain removal and spot dyeing
Exterior wash and vacuum
Full detail for car or SUV
Odor elimination (ozone)
Paint touch up (factory color)
Paint less dent repair
Rock chip repair paint touch up
Undercoating
Wash and wax
Windshield repair